BIC 4 Color Grip Review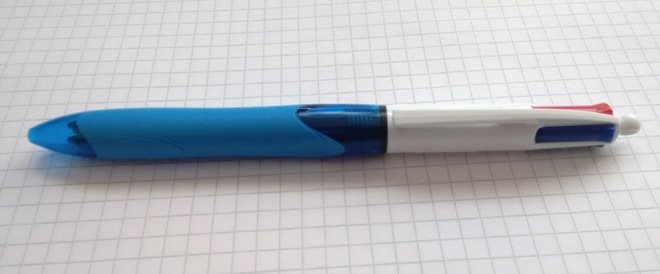 After switching to a Filofax for daily planning and record keeping I got more interested in ballpoint colors outside of the standard blue and black. Color coding helps with categorization and makes the pages prettier. When I'm on my desk I have plenty of pens available, but on the road carrying more than two pens in the Filofax is impractical. The BIC 4-Color is here to help, it holds four non-standard ink cartridges (standard for multi pens are D1 refills).

I remember my dad having one of these pens in yellow when I was little and I loved it, so it didn't need much thinking to pick one up for three bucks at my local drug store. Twenty years ago they had a metal clip though, instead of a plastic one. The 4-Color is practical, but its design isn't exactly pretty. It's available in a small range of colors and a mini version, mine is the standard Grip version with a white top and a blue partially translucent barrel, which widens awkwardly where the rubber grip starts. On top it has an opening for attaching it to a lanyard keychain or something similar. I don't need it but I see how it could be useful for people who walk around with checklists in their day job.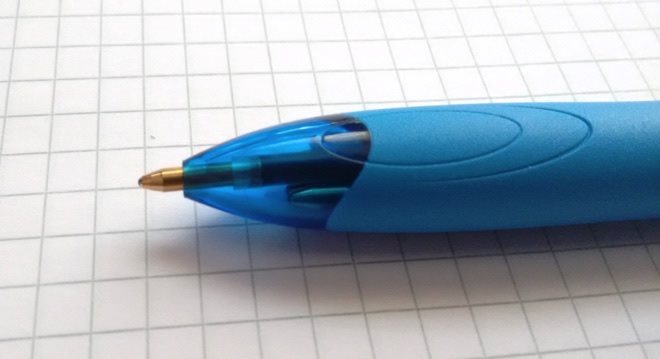 The mechanism of the pen functions with four individual push buttons, which works well. To release a color you push one of the other buttons down a few millimetres. Because the bottom part after the grip section is translucent you are able to notice when you're running out of a particular color. Refills are available, but with online prices around five bucks you are better off buying a new pen. The refills can be exchanged by pulling them out of their base with a small amount of force.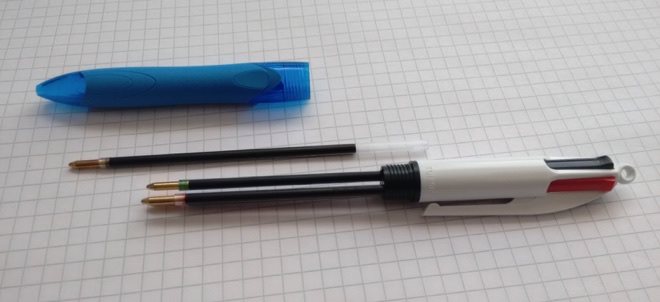 I'm a fan of the BIC Cristal and I expected a similarly nice ink flow from the 4-Color. I got it with the blue and black. The green however is reluctantly flowing, the red feels a little smoother, but still has hard starts. The green BIC Cristal I bought a few years back works a lot better. That was before BIC changed their ink formula to a drier one. I suspect that broke the colors outside of blue and black for me.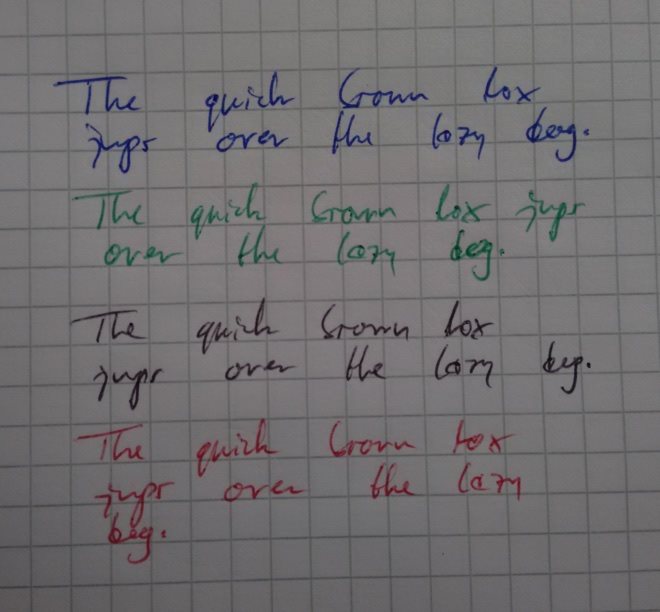 The hand position when writing with the BIC 4 Color is relatively comfortable, despite its thick section, but I won't use the pen much because of the ink problems. If you want a multi pen you should have a look at the Zebra Sarasa and Pilot Coleto models which offer gel inks and more color options.